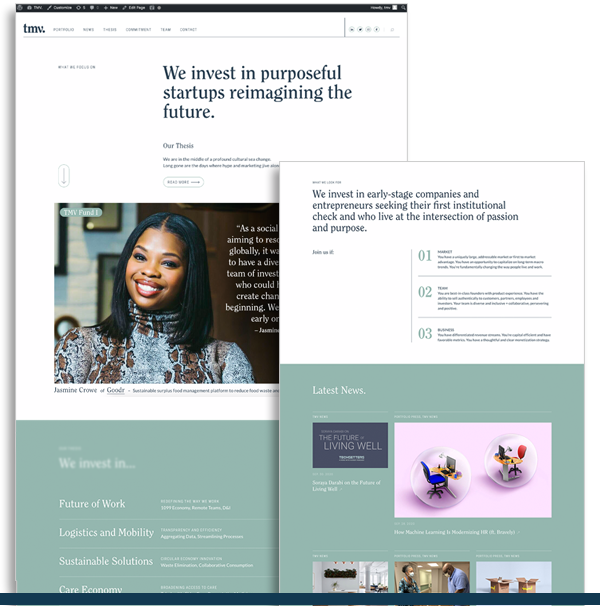 A reimagined future and first look at the new Trail Mix Ventures.
Today we are announcing a rebrand of our firm – the first major change since our inception in 2016. This includes shortening our name from Trail Mix Ventures to TMV. and unveiling a new website that showcases our work and the purpose-driven community we've cultivated over the last four years.
At this stage of our growth, our business and portfolio have expanded dramatically, and our position as a firm rooted in diversity has been cemented, which is why we felt a need for a new name and revived aesthetic that would better reflect our vision and core values.
As a female-led fund with a portfolio that's 65% women- and/or minority-founded, we continue to be committed to investing in people that reflect what America actually looks like.
From the beginning, our objective has remained the same: to invest in forward-looking brands with enduring missions. To date, we have followed through on this objective, investing in 27 portfolio companies positively changing the course of our future.
The companies our founders have built are solving for gaps in our current ecosystem. Examples include Bravely, which promotes employee well-being by connecting people to on-demand coaching from a network of vetted coaches; Parsley Health, doctor-led holistic health care both online and off; Ridwell, making it easier to reduce waste and recycle; Goodr, which provides a triple-win solution by improving an organization's bottom line through charitable tax donations, reducing its greenhouse emissions from landfils and getting its edible surplus food to local communities in need.
Moreover, our portfolio companies have, since our first investments, gone on to raise ~400 million in follow-on capital from firms such as Sequoia Capital, First Mark Capital, NEA, Foundation Capital, Kleiner Perkins, Redpoint Ventures, Thrive Capital and companies such as AirBNB, Google and Microsoft.
Along with news of our rebrand and site unveil, our team is doubling down on our commitment to fund impact-driven innovation within our core sectors: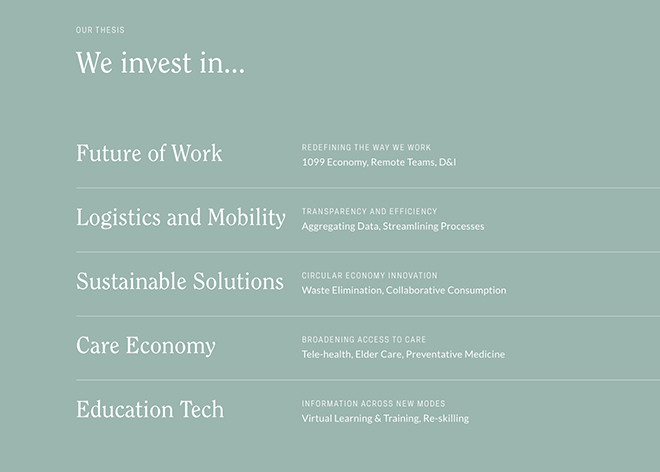 To do so, we've constructed an impressive team of battle tested operators and pioneering entrepreneurs with proven track records of success.

From our LPs to our advisors to our executive leadership team, what differentiates TMV. is the unique experiences we bring to the operator-investor table.
We've been in the startup trenches and understand what it takes to create persevering businesses.
Moreover, our two founders and general partners are women — one a certified sea-woman who went from a shipyard in South Korea to help lead the roadshow that took her family business public on the NYSE. The other, a veteran entrepreneur, board member and investor who launched social media for The New York Times and co-founded a startup acquired by OpenTable (then Priceline).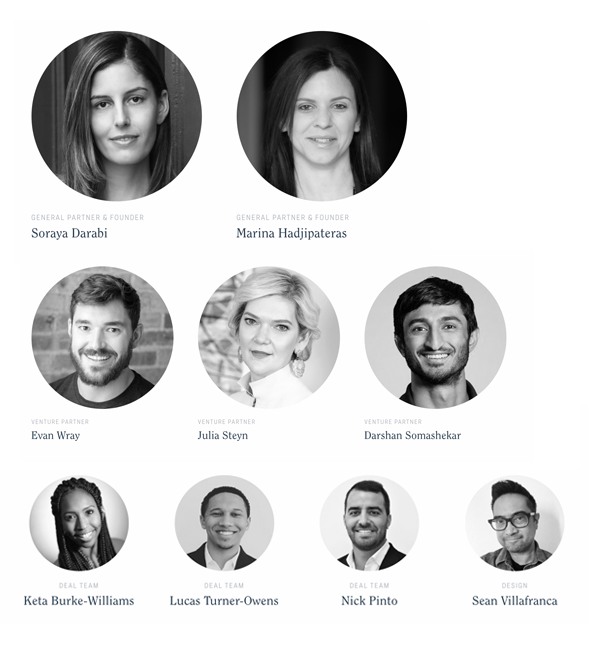 Joining Soraya Darabi and Marina Hadjipateras are Venture Partners Evan Wray, Swyft Media founder (acquired by Monotype), Julia Steyn, Bolt Mobility CEO, and Darshan Somashekar, Imagine Easy Solutions founder (acquired by Chegg). Our Venture Partners are not only best-in-class in their respective fields by reputation, they also provide on-going, actionable counsel to startups.

Collectively with our founders, the TMV. team has six exits between them, including an IPO.
To complement the investment committee, our deal team is comprised of some of the sharpest new innovators in the business, spanning from Cambridge to New York to Washington, D.C. Recently joining TMV. is Sean Villafranca, former Design Director of Rolling Stone and Time who applies his design sensibilities to the startups in our network, former consultant and current entrepreneur Keta Burke-Williams, seed investor Nick Pinto and micro-fund manager Lucas Turner-Owens.
Our LPs and Advisors are second to none and include experts of industry who not only invest their time in our portfolio companies, but provide inroads via their extended networks. Among them, America's highest rated business school professor, Adam Grant, the first COO of DreamWorks, the founders of Care.com, AppNexus and Media.net, the CIO of WeTransfer and the former Vice-Chair of GE.
While we will continue to evolve and grow in the months and years to come, our key attributes will remain consistent when it comes to guiding and amplifying inventive young companies bringing about real change.

If you are building an impactful business of the future or if you are an investor who believes in the power of community and operational commitment, we want to hear from you.

Find us at hi@tmv.vc