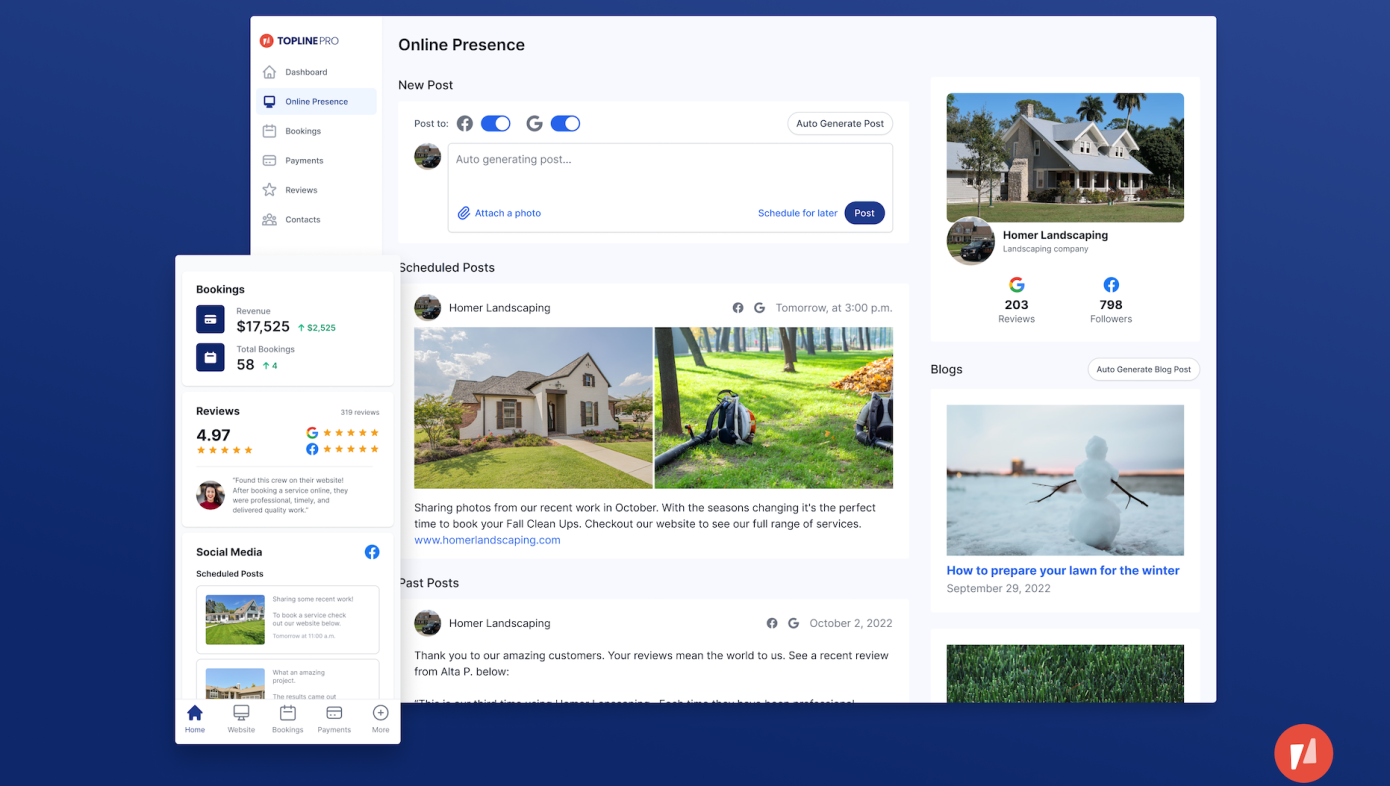 The home services industry — the services needed to maintain and improve the places we call home — represents a trillion-dollar global market and employs over five million professionals in the U.S. alone. These are the people like your longtime plumber who comes to the rescue at 3 am, landscapers, painters, electricians, HVAC experts, flooring installers, housekeepers, roofers, the list goes on. It is an industry made up of subject matter experts — many of whom have spent years or decades honing their respective trades, and whose services are an essential element of owning a home. Yet, in many ways, the industry has been largely forgotten, lost in a landscape of fragmented digital platforms and missed connections. Enter Topline Pro (formerly ProPhone) an AI-driven platform created to give services-based small business owners the tools to help grow their businesses online.
How it Started
Founders Nick Ornitz and Shannon Kay met as MBA students at Harvard Business School, where they launched their first company, Dwelling, a home maintenance tele-consulting service. The two entered school having seen numerous family and friends own and operate small businesses — observing firsthand a foundational industry being largely underserved and consistently absent the tech it needed to optimize.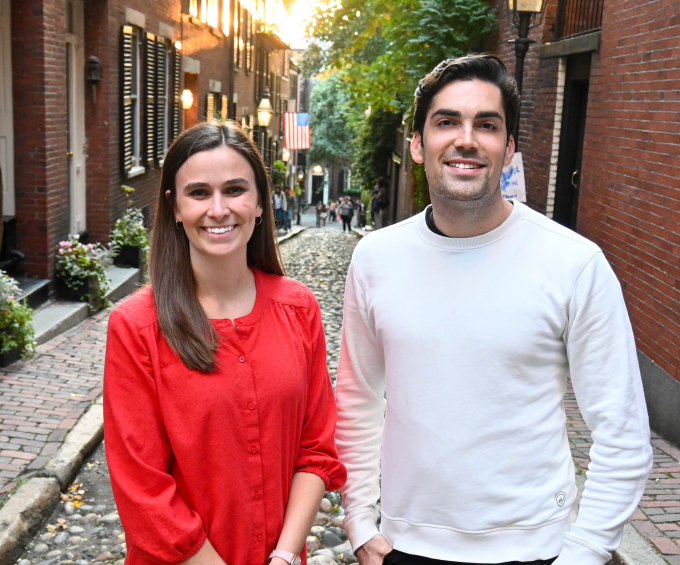 The two spent several months calling local contractors, attending trade shows in Boston and speaking with service professionals about their respective challenges. What they found: homeowners were frustrated by overall lack of communication and difficulty in finding a service professional they could trust. Service pros, on the other hand, were not being paid their value and faced challenges finding work to fill gaps in the day. Dwelling's platform virtually connected homeowners with providers who helped solve their concerns over video. The response from homeowners was overwhelmingly positive, but Nick and Shannon heard a familiar challenge from providers: they needed more value for their time in order to earn a living and keep their business going. So, Nick and Shannon stepped back from Dwelling, listened to more small business owners, researched and reflected.
A Key Pivot
Home services pros were being served a mix of tech and tools not built for the nuances of their market, specifically the need to build homeowners' trust at scale. The broader challenge? Time and Money. Most service professionals are owner-operators, that is, doing all the work and running the business. To find leads, their options are online marketplaces (inconsistent), word-of-mouth referrals (out of the pros' control) and marketing agencies (exorbitantly expensive for unpredictable results). Those without the means to pay agency fees are left with hyper-reliance on the marketplace where they list their service, and those tapped out of word-of-mouth referrals can land in an untenable position.
In order to build their businesses, they need to build trust. In order to build trust, they need to maintain an online presence, which was, until Topline Pro, infeasible given time and financial constraints. Nick and Shannon asked each other how they could help these pros get more jobs and strengthen their homeowner relationships. And so, the two set out to create what could be called the Shopify for services companies, empowering these small businesses to scale online in the same way that Shopify accelerated the online growth of those that sell products. And with that, Topline Pro was born.
How it Works
Topline Pro uses Generative AI — advanced AI technology that generates its own content — to help service pros list their offering, collect homeowner reviews, manage their social media queries, keep their local listings and schedule requested services. "This transition has already happened in e-commerce," remarks Nick, "and it needs to happen for service-based businesses. It helps create a better relationship between the service professional and the homeowner, results in a smoother process and increases the likelihood of repeat business."
Topline Pro offers a subscription-based platform, with an intuitive, easy-to-use interface that enables pros to have their website built and launched in the same day, optimize listings, sync to and from local listings, automate content for social media, manage online reviews, book and manage jobs, collect online payments and more. To date, these business owners have had to juggle professional and personal communications in one place, manage customer requests from countless social media and other platforms and book across multiple channels. Topline Pro gives pros more time, streamlined operations, heightened focus on the task at hand and the opportunity to develop and deepen their relationships with homeowners.
As an example of the power of this technology, here's an AI-generated description of Topline Pro:
Almost every business needs a website. But not every business knows how to build a website. That's where Topline Pro comes in. Our team has spent the last few years developing our own proprietary technology that allows us to create and manage digital marketing like no other service can. We are a Generative AI Technology company that specializes in website generation services and online marketing. We can build you a custom website in minutes, and it will be responsive and mobile-friendly. So why should you book a Website Generation service from Topline Pro? Here are just some of the benefits:
1) You'll save time — Rather than spending hours trying to create a website yourself or hiring a web developer, let Topline Pro take care of everything for you. We will work with you to design a website that meets your needs, ensuring that it is both functional and attractive. Plus, since their websites are generated using AI technology, we are always up-to-date with the latest trends and designs.
2) You'll save money — Having a custom website designed can be expensive, but with Topline Pro's Website Generation service, it doesn't have to be. We offer affordable rates that fit any budget, so you can get the website you need without breaking the bank
An ongoing solution
When service professionals list their offerings through an online marketplace, they don't own the data they receive; all leads come through that marketplace. By empowering service pros to collect online reviews and post photos through their own websites, Topline Pro is setting them up to build lasting customer relationships well beyond a single platform. Remarks Shannon: "Enabling professionals to own their own data is important to us. If they leave Topline Pro, those reviews belong to them. It's easy to think about company growth as a number, but we also think a lot about the actual professionals we're serving, tracking how many users are on our platform and what value we have provided them in terms of quality and amount of leads."
Looking Ahead
Today, Topline Pro is focused on helping service professionals get discovered online, build trust, convert leads into jobs and generate a repeatable process. "What we see doing over time," says Shannon, "is not only helping the service professional get the job, but also manage it, receive payments and convert a single project into recurring revenue. They can spend less time and fewer resources searching for new leads, and focus instead on turning existing customers into repeat business."
We asked Shannon and Nick what advice they have for first-time founders. Here's what they had to say:
Shannon: "Trust your gut. Pivoting to Topline Pro wasn't easy, but we knew we needed to shift our approach from Dwelling and we ran with it. Also, find your support system — friends, founders, mentors — people you can go to through all the ups and downs. And, if you have a co-founder, be sure to invest in that relationship. It will make your partnership and the overall company stronger."
Nick: "Persistence creates luck. Keep trying and trying. As to your business, be honest about what your customers are telling you. Hear them. Make every effort not to let your own biases about what the company should be get in the way. Finally, don't underestimate just how much other people can bring to the table. Surround yourself with the people you can trust to stay true to the mission of the company."
Written by Emma Silverstein, Principal at TMV