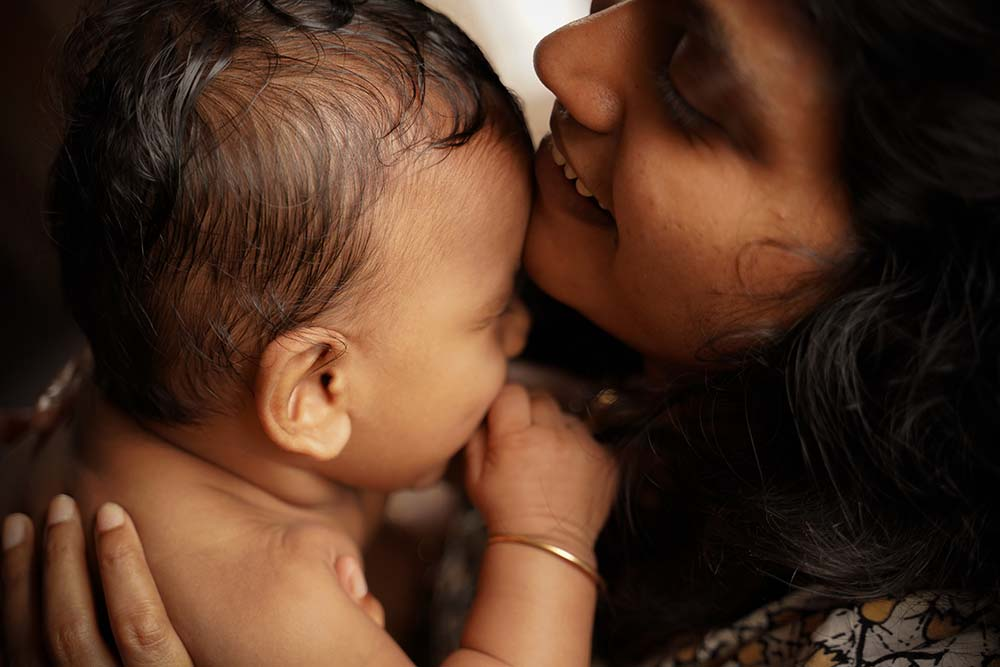 There are approximately four million births in the U.S. per year, 99% of which take place in hospitals or medical settings. And yet, the country's maternal mortality rate is twice that of other developed nations — with the highest cost of maternity care in the world. U.S. C-section rates have also risen sharply over the last two decades, in addition to high rates of preterm births, NICU admissions, and perinatal depression — all of which lead to unnecessarily poor outcomes and deaths — 60% of which are considered preventable. These figures only underscore the vast changes and improvements needed across the continuum of maternity care.
Enter TMV's recent investment Millie: "A new kind of maternity clinic," says Founder Anu Sharma, "that brings together collaborative OB GYN and midwifery care supported by advanced medical tech to provide every resource — information, emotional support, education — mothers need from the first positive pregnancy test through early parenthood."
How it Started
In 2019, Anu gave birth to her daughter. Having been raised among a family of physicians, and with a 15+ year career in healthcare innovation, Anu was prepared for her maternal care experience to be less than perfect, but she did not expect the trauma that would unfold. Barely 36 hours after being discharged, she was in the ER on the verge of a stroke after having self-diagnosed postpartum preeclampsia. As she lay in the hospital — being evaluated for an ICU admission, she had two thoughts: gratitude for the physicians fighting for her, and acute new awareness of the inadequacies of maternity care in the U.S.
Anu had already undergone an induction, over two days of labor and an unplanned c-section with a near-hemorrhage, all clear signs of a high-risk pregnancy. Despite this, she was given "standard" instructions upon discharge to return in the customary six-week time frame for her usual postpartum visit. If she had questions, Anu was told, she should call the hospital; nobody was going to call her.
Furthermore, Anu already had an advantage; she not only held deep knowledge of the U.S. healthcare system but was also fortunate to be giving birth at one of the country's top hospitals. And yet, she almost died. Thousands of others who give birth in the U.S. each year are not so lucky, in opportunity or outcome.
Says Anu, "The truth is this: pregnancy and parenthood are seismic life events. You go through changes at every level — physical, mental, emotional, identity, relationships. Yet 'standard' maternity care is only designed to cover a limited, clinical slice of the experience." So, Anu set out to build a new standard, one which would address all the elements of evidence-based maternity care and offer the full-service support needed by anyone, at any time, throughout their pregnancy journey and into early parenthood.
A Fundamental, Nationwide Problem
Anu's experience is not unique.
Maternity care in the U.S. is largely one-dimensional, OB-driven, and based on the narrow, clinical aspects of care covered by insurance: labor and delivery plus episodic office visits — each only 15–20 minutes long — starting at approximately eight weeks. Of these total visits, typically only one is postpartum, which is scheduled six weeks after delivery. In fact, 52% of maternal deaths occur after the baby is born, in the first year of life and the vast majority of these occur within the first 6 weeks. And still, the standard approach remains to discharge with instructions to return at six weeks.
When expectant mothers arrive for their first prenatal visit, they are faced with the stark realization that their needs far exceed the limited care they'll receive: little formal education on the experience of childbirth, recovery, breastfeeding and countless other aspects of parenthood, never mind the lack of community-based resources for emotional or other support.
To support birth and postpartum, those who can afford it pay out-of-pocket for doulas, night nurses and other specialists along the way. But those who cannot are left to self-navigate their own physical recovery and newborn demands, putting the burden of care on the people most in need of it. This in turn creates a stressful cycle of DIY problem solving and support-seeking through disparate sources (e.g., apps, blogs, websites, friends, co-workers) as expectant mothers attempt to navigate a profoundly human and all-consuming journey.
The U.S. model differs sharply from how countries like the UK, France, Canada and others operate. While the U.S. approach sees pregnancy as a medical event attended by OB, in other nations 60–70% of care is provided by midwives, who view childbirth as a natural physiological process, with OBs attending to high-risk pregnancies requiring intervention. This results in less medicalization and more holistic support.
Millie is building the next generation of U.S. maternity care offering a higher new standard, defined by a comprehensive, empathetic approach.
The Millie Model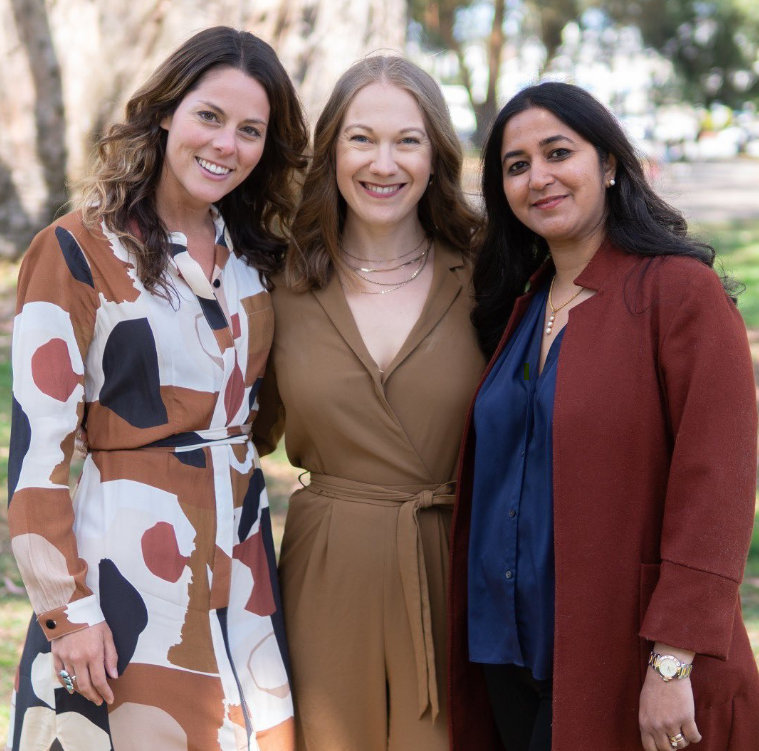 Anu teamed up with Clinical Director Talia Borgo and CTO Sarah Reynolds to create Millie: a collaborative OB-midwifery model based on extensive research showing better outcomes when midwives are involved in maternity care. They offer consistent monitoring and communication between visits for earlier detection of complications, virtual check-ins, trimesterly coaching sessions with expert doulas, and a network of experts for 360-degree care needs. In addition, Mille equips expectant mothers with robust information and resources through a supporting app, which proactively provides critical information at each stage of pregnancy. Patients are encouraged to give real-time feedback to their care team, empowering them to participate more effectively in their own care. Millie's initial goals are to help mothers reach pregnancy terms of 37 weeks or more, newborn birth weights of 5lbs, 8oz or greater, reduce cesarean rates, increase early detection of peripartum anxiety and depression and more, all supported by appropriate medical or other treatment as needed.
The model is centered around their meticulously designed clinic, the first of which is based in Berkeley, where patients receive clinical care, scans, labs and follow-ups from a team that includes OB GYNs, CNNs, midwives, doulas, lactation consultants, mental health practitioners, and postpartum care specialists. For delivery and interventions, they partner with top hospitals. Millie's vision is to integrate across the U.S. healthcare system, lowering maternal death rates and driving better outcomes for both mother and child.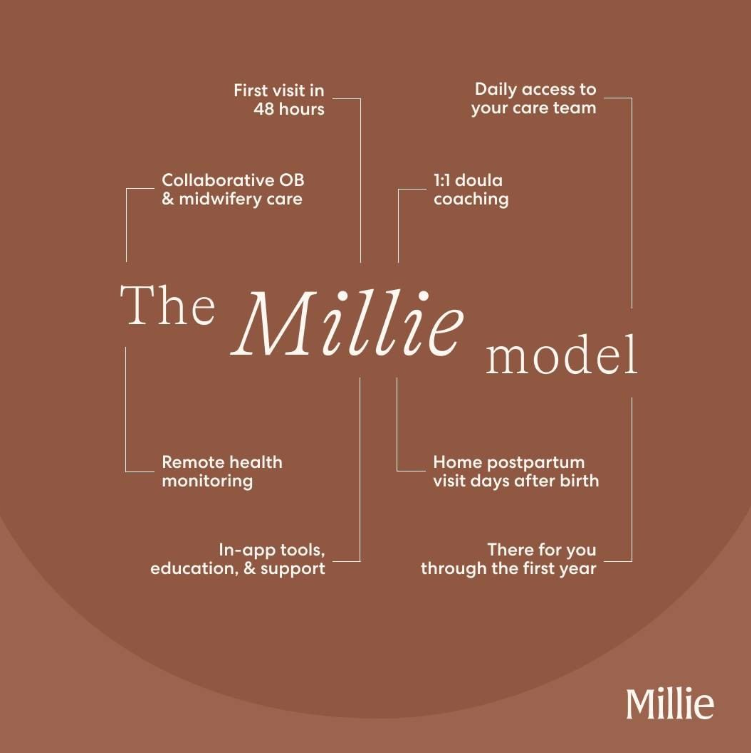 The Mille Clinic
"We were very intentional about the design and location of our clinic," says Anu. "Each element is considered from the standpoint of someone who is going through the pregnancy journey. We looked at every detail, from the comfort, sizing and silhouettes of the chairs, the warmth of the lighting and color palette to the snacks we put out for cravings. We wanted everyone to feel like they were coming into an experience designed for their journey." The team chose the Berkeley location based on the size and diversity of the population, openness to the model, and lack of access to full-service maternity care. Millie will continue to focus on markets not only where their approach resonates, but also where maternity care is not otherwise available. 35% of counties in the U.S. are considered "maternity care deserts" with neither a hospital maternity unit nor any obstetrician-gynecologist or certified nurse-midwife. Says Anu, "You need a patient population who is open to a different model of care, and you want to be where you're needed."
Looking Ahead
Moving forward, Millie plans to scale and expand by partnering with large health systems to make their full-service collaborative care model available to ever wider patient populations.
We asked Anu for her parting thoughts on solving a universal problem at a national scale: "Building Millie, and any healthcare company, requires a multidisciplinary approach — a team of people who understand the U.S. healthcare system, what is achievable within the short- and long term, and how to approach it so that you can truly make it mainstream. We are focused on building a better standard of maternity care and making it available to everyone."
Written by Emma Silverman, Principal at TMV