Think of couples counseling. What do you imagine? Two people looking to proactively and consistently invest in their relationship? Or, a pair on the brink of a breakup giving it one "last shot"? Social biases and other misperceptions lead us directly to an image of heartbreak, when, in fact, the scenario is often far more positive and optimistic. Many argue that if we treated going to therapy like we treated our annual physicals, the world might be a healthier, happier place.
OURS co-founder Jessica Holton faced the "couples therapy" misperception firsthand when she and her partner sought counseling to strengthen their healthy, thriving relationship. They were met with a consistent but surprising reaction: "So, what's the problem?" It occurred to Jessica that the couples counseling model — as we know it today — relies heavily upon the existence of an "issue" and subsequent solution. But what happens when a healthy couple wants to stay healthy, grow stronger, prepare for the future or simply better understand each other?
Meet OURS, a new experience reinventing counseling for the modern couple. OURS uses a hybrid approach of live therapy and asynchronous, self-guided content designed for couples to navigate key topics together. These sessions are geared toward creating fun, meaningful, insightful time together and exploring each relationship more deeply. In short, OURS offers the promise of couples counseling for those who are starting a new path and wish to protect it. They call it "relationship wellness."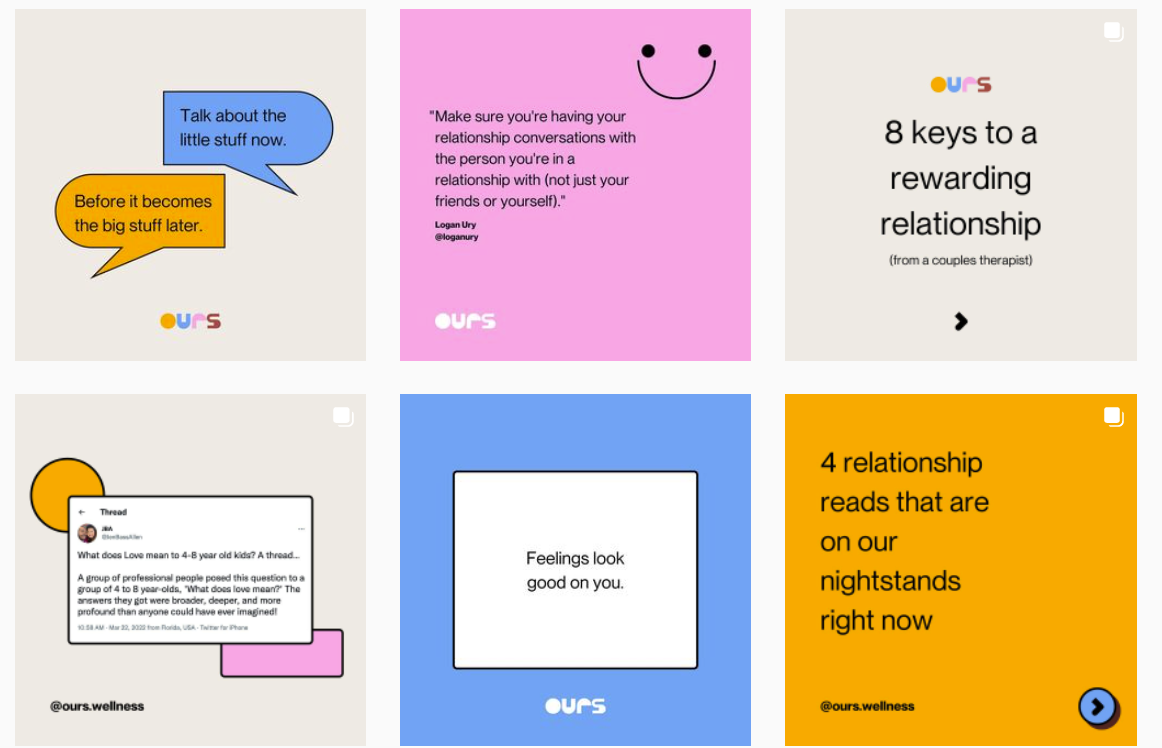 How It Started
Jessica began her career in finance, investing in consumer brands. It was there that she found love, although not the kind you might think; she was captivated by the power of branding and its ability to make consumers feel a sense of belonging, fulfillment and worth. She also found another kind of love, with her partner, Phil.
A modern consumer who understood that mental health is an integral part of overall well-being, Jessica sought couples counseling as a way to invest in her relationship, but she found that no service existed to help foster healthy partnerships. So, she set out to build what she couldn't find for herself.
Meanwhile, Adam Putterman, who would become Jessica's co-founder, was reflecting on the strength of his seven-year marriage to his college girlfriend — and ways they could celebrate it beyond the excitement of being "newlyweds." Prior to meeting Jessica, Adam and his wife serendipitously happened upon Eli Finkel's The All or Nothing Marriage, a book that explores the importance of purposeful contribution to a relationship. This was exactly what Adam and his wife had been seeking: to evolve the meaningful, transformative experiences they shared in early marriage through the ups and downs of real life.
Jessica and Adam came together through a chain of connections that finally led to a phone call, many long walks, and an almost instantly familiar back-and-forth. The two came to the idea for OURS from complementary perspectives: Jessica saw a service that would strengthen relationships, Adam saw an engaging resource for healthy couples, and together they envisioned a new model for couples counseling — one that celebrates each partner and nurtures the relationship itself.
Bringing this experience to life for each couple, however, was easier said than done. So, Jessica and Adam set out looking to find "the best couples therapist in the world." Enter Liz Earnshaw, LMFT, CGT, certified Gottman therapist, bestselling author of I Want This to Work, founder of A Better Life Therapy, iHeart Radio's host of Good Risings and creator of @lizlistens, a free social platform for relationship advice. Mission accomplished.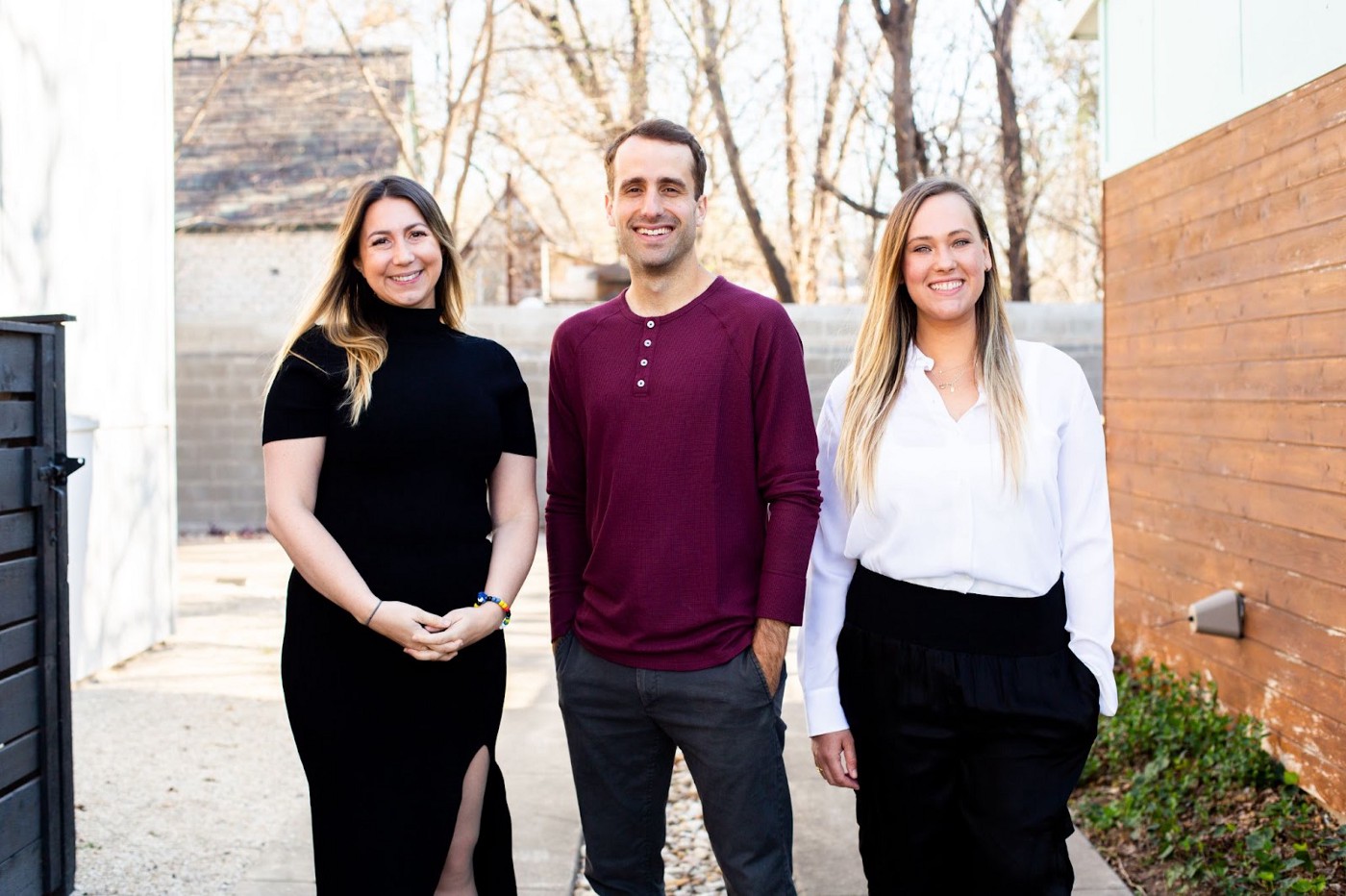 "Relationships have the power to make or break our wellness."
When Adam and Jessica first spoke to Liz over Zoom, she lost electricity mid-call. But, she managed to stay connected despite the power outage, and, as afternoon turned into evening, the three got to know each other. Liz left Jessica and Adam enthralled not only by her expertise and experience, but also by how similarly she viewed the world and the future of couples counseling. Liz joined OURS as co-founder, where she spearheads the practices, programs and curriculum for the modern couple that differentiate the OURS model; namely an intersection of human touch with the scaling power of tech. In addition, she brings the clinical leadership to create a world-class program, as well as relationship specialists from her national network.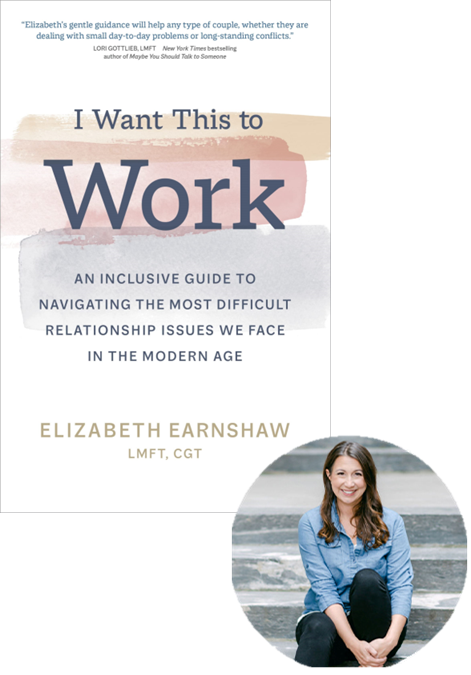 How It Works
The secret to OURS is that it's unlike counseling as we know it today; when couples join, they embark on a program bookended by two live therapist sessions, with the majority of the experience delivered through virtual, personalized content sessions that focus on understanding and moving the relationship forward. This model combines the irreplaceable element of human engagement with an immersive platform designed to drive deeper connection and lasting impact. When asked why they didn't build an entirely self-guided product, Jessica shares: "Relationships require consistent attention, love and energy. When it comes to perhaps the most emotion-driven space out there, there is no way to remove the human element."
In addition to delivering a powerful experience for couples, the asynchronous model works seamlessly for therapists, allowing them to better leverage their time, deliver an exceptional experience to a larger number of couples, and build an offering that is accessible.

The Next Chapter
OURS is launching with pre-marital relationship wellness — because there's never too happy a time to invest in the long-term health of your relationship. Soon, they will progress to serving couples through key transitions in their lives and relationships (pregnancy, caring for aging parents), and even other "pairs," (siblings, parents and children, friends, even co-founders and colleagues.)
We asked the OURS team what advice they'd give to new founders. They unanimously agreed: first and foremost, you have to find the right team to build with. Seems that it really is, in fact, all about the relationship.
Written by Emma Silverman