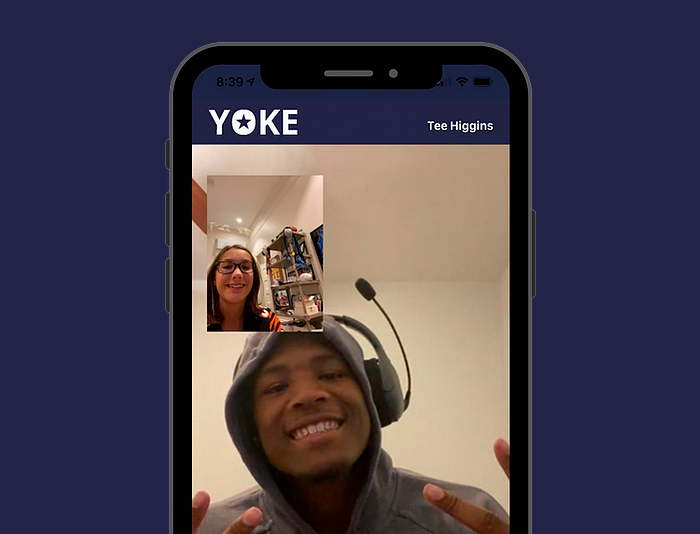 We're pleased to announce our latest investment, YOKE Gaming. Sparked by an idea shared among a small group of college friends and athletes at the University of Notre Dame, YOKE is a mobile app that allows athletes to be paid for their time off-court by gaming with their fans. Sound like fun? The athletes and fans agree — the platform has been growing like crazy since it launched in early 2020, both in professional players and in active users. YOKE is now 1,000 athletes strong.
Here's how it works: athletes select a game and "go online," indicating to the fans that they are ready to play. Fans browse the app and are able to send challenges to whichever athletes they would like. Once the athlete accepts the gamer's challenge, YOKE connects the two via video chat to coordinate details and start playing.
Why YOKE?
Team TMV is excited about what YOKE has built, and what's ahead:
Market Size: Gaming has gone mainstream: the market size and engagement have been further accelerated by the pandemic, and the global market is expected to surpass $256 Billion by 2025. According to PRNewswire: "Recent surveys show that video gamers in the United States reported that they spent 45% more time playing video games amid the quarantine than in the previous week…but the global gaming markets were growing even before the pandemic." This market expansion, fueled by increased variety and innovations in mobile gaming, is expected to continue to develop at a rapid pace.
The Power of Access: YOKE connects fans directly with athletes, who would otherwise be out-of-reach, in a compelling, fun and casual environment. It's like gaming with your friend, if your friend were also your favorite athlete. According to one user: "This app adds a whole new element to whatever your favorite game is. It's a pretty hard flex when you can honestly say you've beat a professional athlete at their own game."
The Future of Work: At TMV, we're focused on how the world of work is evolving. The average gamer may think of gaming as a hobby or a way to blow off steam, but for athletes, gaming presents a world of professional opportunity. While name and image likeness will unlock earning power for a select few, the majority of athletes — even those with highly engaged fanbases — aren't on the radar for major brand sponsorships. By leveraging platforms like YOKE, athletes can earn extra income doing what they love. And for fans, this type of engagement is both emotional and competitive, driving an even stickier app experience.
Built by Athletes
YOKE has built a remarkable team that has proven its strong product market fit and powerful network of athlete recruiters. We spoke with YOKE CEO and Founder Mick Assaf to talk about how he got started, and where he's headed next.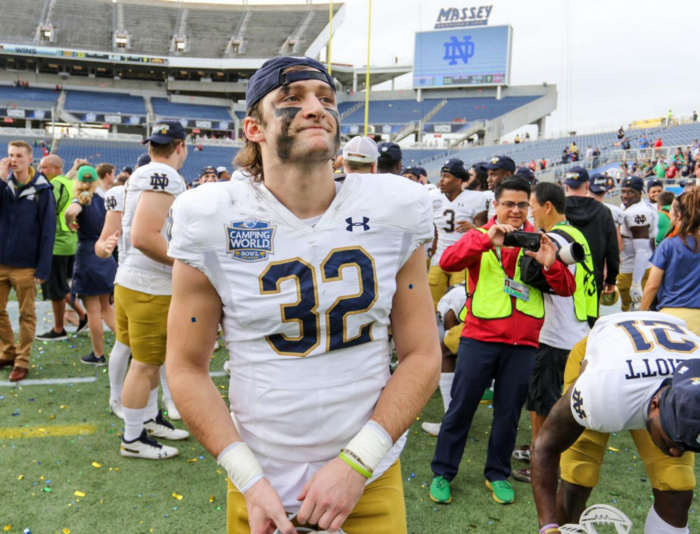 Mick is no stranger to sports. He grew up playing football, basketball and lacrosse, surrounded by his self-described "hyper-competitive" four brothers. As a high school athlete, he received 12 Varsity letters, before going on to play D1 college football — at Notre Dame, no less (great story: Mick was a day away from accepting a spot at MIT when he was recruited by Notre Dame as a walk-on).
In addition to being an athlete, Mick has always had an entrepreneurial streak, and has long dreamed of building his own business. He's a natural self-starter and collaborator — raised with a team-first mentality.
In the spring of his junior year at Notre Dame, Mick began talking to friends and fellow athletes about sports influencer marketing. The idea quickly evolved into something new — smart and irresistible, with the potential for big impact: a platform that could virtually connect athletes and their fans via gaming. The small team that Mick had assembled (plus the key addition of a friend with tech experience) got to work building an app: within 30 days, they had created YOKE. Mick tapped his personal network and connections to professional athletes to get more athletes onto the platform and build traction. YOKE continues to gain users daily at a remarkable pace.
We asked Mick what he wished his 19-year-old self would have known when starting out: "Move fast, and don't try to be perfect. You won't feel like you win every day, so focus on your successes. Founding a start-up is hard work, but I can't imagine doing anything else."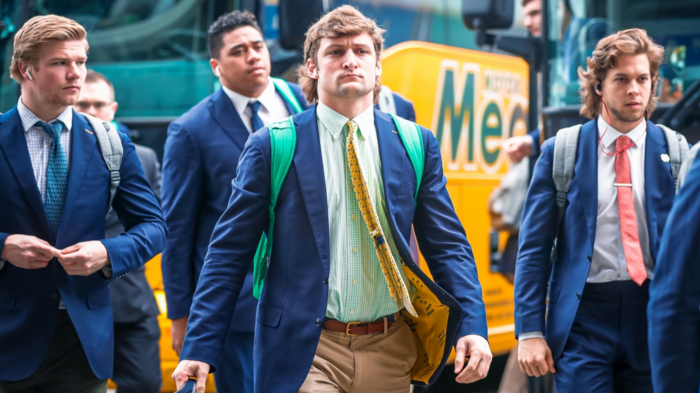 What's Next for YOKE
Recently YOKE piloted its first-ever strategic partnership in collaboration with DoorDash delivery-only brand, It's Just Wings, managed and owned by Brinker International ($EAT). Preliminary results show that the co-sponsored gaming night generated a 35% increase in per-restaurant sales relative to the same day one week prior. A potential long-term partnership with YOKE and It's Just Wings may be ahead.
Learn more at yokegaming.com